CISS IS THE NEW GENERATION SECURITY SYSTEM FOR ACCESSORIES, WHEN THE MAIN FOCUS IS SUFFICIENT TO USEFUL, FLEXIBILITY AND HIGHLY REQUIRED SAFETY REQUIREMENTS.
CISS Access & Security System
For the installer, CISS Plug-n-Play hardware no need of software installations and easy online help throughout the installation phase. The end user can use any internet connected workplace as all CISS administration is done through a easy-to-use web interface. Web interface management is encrypted with SSL – a secure technology that for example many banks use.
Without compromising on functionality and security, CISS offers one of the market's most trusted access control systems with integrated management of alarm and condition-controlled actions in one and the same device.
CISS provides all the features of a security system that is usually found only in the so-called "Enterprise system". All configuration is also done in a very simple and easy way. The system's flexibility allows you to get user-friendly features to the end users of the system, i.e. the staff who work or move in the parts of a building being monitored.
Integrated features – Very powerful access features, burglary features and condition-controlled action programming. All features are well integrated with each other.
Software not needed – configuration is done directly through the built-in and powerful web interface. The CISS Management software is preinstalled in CISS Central Unit. This allows you to manage the system also via a mobile device.
Flexible structure – CISS Central Unit manages up to 40 input and output modules, allowing 90 card readers to be connected. Additional modules can be connected with one or more MUX.
Range of readers – All types of identification readers can be connected to the system, which allows the user to choose the technology and security level that the system requires. Choose among readers with, for example, simple RFID, high-security RFID, PIN, biometrics or why not open the door with your smartphone?
Seamless integration – CISS does not handle pass control, alarm and burglary management separately, but everything being integrated and managed in the same software.
High end security -encryption at all stages, all communication in the system is encrypted, which allows the system to be configured to meet alarm class 3/4.
Say goodbye to complicated license models – no device licenses for functionality, full function of the system are available directly, you can configure systems and users as you want and no additional charges for the system.
Really powerfull -system can handle up to 45/213 * DSS devices, 360/1704 * simultaneous physical inputs and 360/1704 * simultaneous physical outputs. Theoretically, the system supports 100,000 users at the same time. Only the hardware capacity in the form of processor and memory capacity limits.
* indicates the number in a line multiplexer facility
Reference Project – CISS  Access & security system is used in a lot of high-security installations already today. Userfriendly, flexibility and ability to meet high security requirements means that the system is a high end system and therefor been installed in a variety of high-security systems for example the banking sector, state-owned enterprises, privately owned production and insurance companies and other prioritized facilities.
Communication with rectifiers and alarm transmitters – CISS communicates with rectifiers and alarm transmitters connected to the system.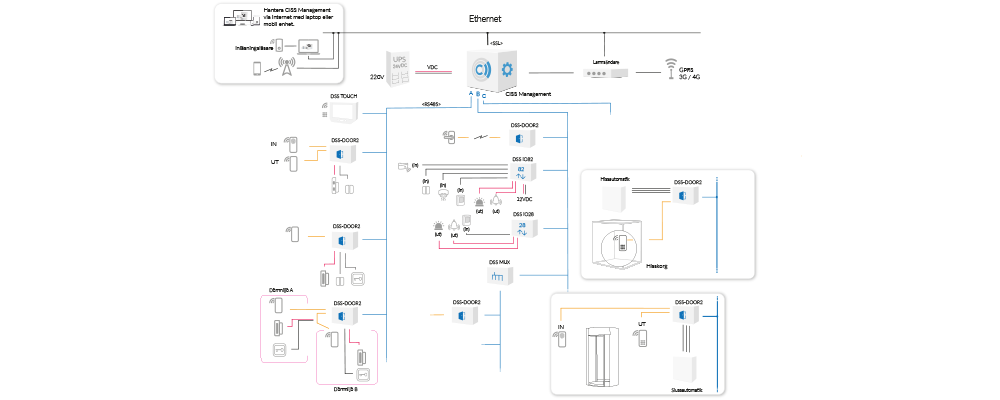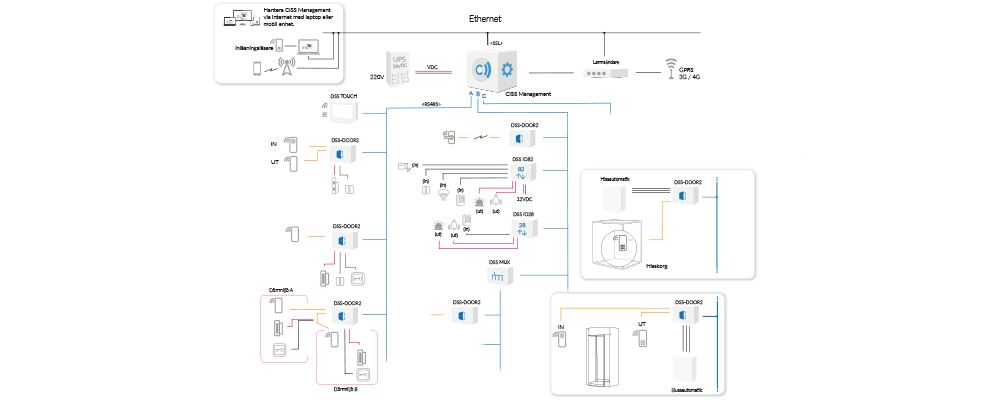 The system consists of a CISS central unit under which can be connected 15 different nodes (DSSs) of each of the three integrated buses (RS485) A, B and C. In total, up to 45 nodes are DSSs. In order to connect more DSSs, a line multiplexer can be used (DSS-MUX) can be used. This allows the system to handle up to 213 DSSs. In a smaller system, the more compact CISS DUO central unit can be used for which 10 DSSs can be connected.
The following devices can be connected to the CISS / CISS DUO central unit.
-DSS-Door2 (2 Card Reader Wiegand, OSDPv.1 or v.2 4 Outputs (2 relays, 2 OCs), 6 Inputs)
-DSS-IO28 (2 inputs, 8 outputs (4 relays, 4 oC))
-DSS-IO82 (8 Inputs – LSI, 2 Outputs (2 OC))
-DSS-TOUCH (Touchscreen Touch Panel and RFID Reader)
-DSS-MUX (Extends Line With 15 New DSS Address Units)
CISS ACCESS & SECURITY SYSTEM CONTAIN THE MULTIPLE PRODUCTS AS DSS: ER, READERS, METAL HOUSING, TAGS AND CARDS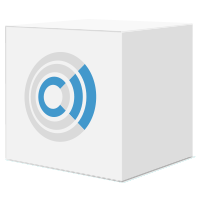 The CISS S4 Central Unit has very powerful access features, burglary features and condition-controlled action programming. The CISS central unit consists of a carrier card with a CPU module mounted in the intended enclosure which, in turn, is mounted on the wall together with a power supply.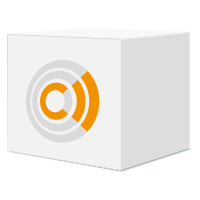 CISS DUO has powerful access features, burglary features, and condition-controlled action programming for small and medium-sized installations. The CISS DUO Central Unit has the same function as CISS Central Unit, but with only one RS485 port for connecting DSSs.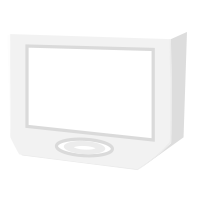 DSS-TOUCH is a control panel with support for switching on / off, entry / exit, and alarm management. The panel is simple and clear to use with the integrated touchscreen and easy-to-understand graphical user interface. The panel also has card reader function, which allows it to be used for access control.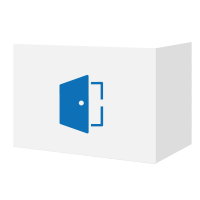 The DSS DOOR2 unit is primarily intended for door control but can also be used as a  I / O device. DSS Door2 is available for delivery with plastic enclosure or with an SSF sheet enclosure for those customers who have high security requirements.
New product on the way – expected to be in use next year.
DSS I028 is an input and output device that communicates with the overhead CISS central unit via RS485. DSS IO28 has 2 inputs for alarm and 8 outputs for external controls.
DSS I082 is an input and output device that communicates with the overhead CISS central unit via RS485. The DSS IO82 has 8 inputs for alarm  and 2 outputs for external controls.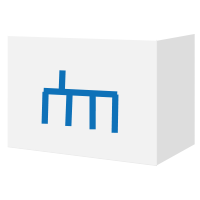 DSS MUX is a line multiplexer used to extend the number of possible DSS addresses. With a DSS MUX, a new RS485 line is created on one of the three communication buses A, B and C.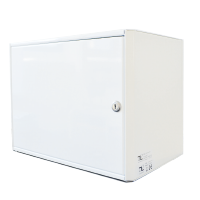 Metal housing for the CISS S4 Central Unit and for the DDS. See description for each metal housing.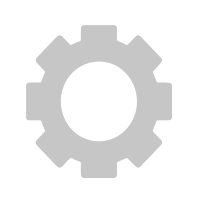 CISS requires no separate software installation. All you have to do is connect the CISS central unit to a network. The user can then use any Internet-connected workplace as all CISS administration is done through an easy-to-use web interface.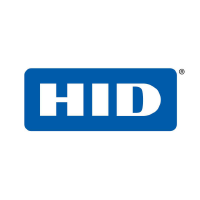 Readers based on HID Global's SEOS platform are excellent for both new and existing systems. They support both  existing and newer RFID technologies based on e.g. MIFARE® and iCLASS ™. In addition, readers can also handle Mobile Access, enabling secure identification with a Bluetooth compatible smartphone.
Readers from IDESCO are robust, flexible high-security RFID readers that are easy to install. This makes readers very well-suited for direct installation in CISS, but also in other existing access and security systems on the market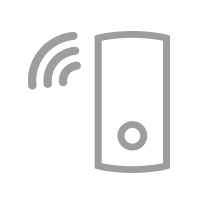 A very versatile RFID reader that can read the most commonly used RFID products on the market, such as EM Prox and different versions of Mifare® (Classic, Ultralight, DESFire). By default, the reader has USB interface and is available as a keyboard reader or with a virtual COM port.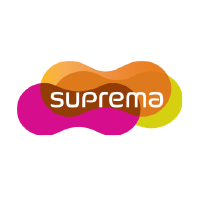 Suprema readers are high quality biometric RFID readers for access solutions. The range includes anything from simple RFID readers, biometric readers with or without RFID to more advanced biometric facial identification stations.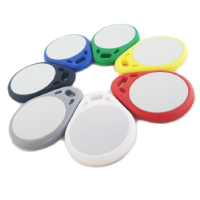 Areff's products work in all types of identification systems. For our products, we use suppliers and partners that maintain consistent and high quality. We also have our own experience of the products we sell to ensure stable products and good service.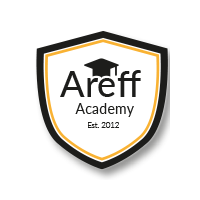 Areff Academy offers training courses to help you and your business keep pace with new security trends and technologies. Areff Academy offers courses to become Certified CISS Installer and various types of courses in RFID and MIFARE®.
Let us help you find the right solution for your business.
Give us a call +46 (0)455-61 66 00