SSF metal housing- A safe way to protect the CISS-devices.
CISS Metal Housing for the central unit
The cabinet is being delivered with a lockable door. The dimensions of the cabinet are 420 x 300 x 240 mm (W x H x D) and its weight is 8.6 kg (empty with mounted door and mounting plates). The cabinet is fitted with M6 screws or equivalent. In the cabinet up to 3 additional pieces of mounting plates can be attached (one on the right side, the left side and the bottom part). In the cabinet's rear panel, specific holes for wiring and additional mounting points, can be found. In the ceiling of the cabinet, a 250 mm DIN rail can be fitted with nuts on two bolts pre-installed within the metal case.
On the back of the cabinet there are wall spacers to allow for wall mounting and cable management behind the case. To accommodate the cabinet in a 19″ rack, the cabinet brackets for recessed mounting are required. In order to fulfill the SSF Classification 3/4 requirements, the cabinet is required to be mounted on an additional mounting plate. This plate is used as an additional protection for the rear cabling and power supply within a 19" rack as well as handling the needed breakage protection.
Further for the SSF alarm Classification 3/4, a seismic detector "VD 400" must be mounted in the center of the cabinet. The hardware configuration of the cabinet can be varied seen to the backside and the three available mounting plates found on the sides and bottom of the case. Below you can find a suggestion of how the cabinet's configuration could be distributed:
1 pcs. CISS Central Unit
4 pcs. DSS IO82 (VMC module wide)
1 pcs. Vibration detector ALARMTECH VD 400
5 pcs. VMC Module small
2 pcs. DSS Door2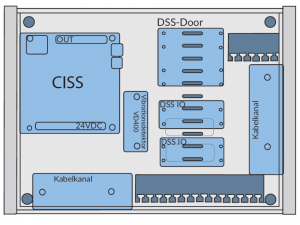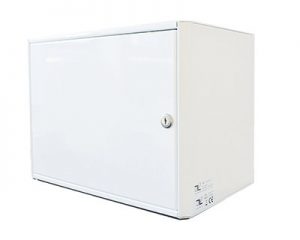 CISS Metal Housing for DSS
The metal housing has the following dimensions, 155 x 215 x 45 mm (W x H x D including the cover plate), weighs 0.9 kg (empty including lid) and is fitted with M6 screws or equivalent. The DSS Housing accommodates either a DSS Doors, 1-3pcs DSS IO82 or 1-5pcs small VMC Modules. The mounting points are designed to hold VMC modules. The distance to the cover plate is adjusted so that the IR sabotage detector on DSS devices detects if the cover is removed. At the top of the house, the possibility to attach a seismic detector "VD 400" exists, this can be installed with a plate screw either horizontally or vertically to the left. This sensor is interconnected with the above mentioned IR-tamper switch. The seismic detector is a requirement for the SSF alarm Classification 3/4, when placed outside the monitored area.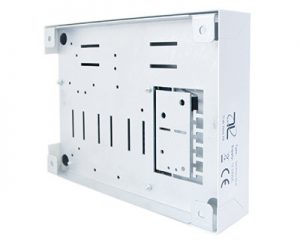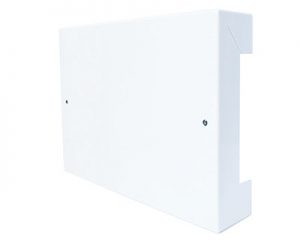 CISS Metal housing for Central unit
CISS Metal housing DSS(es)