The readers are based on HID Global's SEOS platform which is excellent for both new and existing system. They support both an older version but also a more modern RFID technology based on e.g. MIFARE® and iCLASS. In addition, readers can also handle Mobile Access, which enables a secure identification possibility through a Bluetooth compatible smartphone.
The readers from HID readers can be configured to support multiple technologies, including all commonly used RFID technologies on the market (125 kHz – EM4102 Prox, HID Prox, 13.56 MHz – MIFARE® Classic, MIFARE® DESFire EV1, iCLASS) and supports Mobile Access- identification directly through a smartphone.
According to the above, the readers are well adapted for both CISS and other applicable access- and security systems in the market.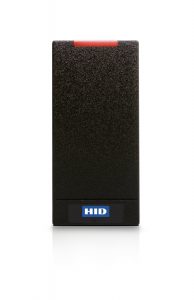 R10 HF SEOS has the simplest and smallest format among the readers in this series. Despite this it can be configured with all reader and security features.
The RK40 HF SEOS is a keypad reader that manages all reader techniques and security features in the series.
Let us help you find the right solution for your business.
Give us a call +46 (0)455-61 66 00