Secure Identity Issuance Solutions – World's broadest portfolio of advanced generation ID card printers and encoders.
Areff offers a complete range of FARGO®, the broadest portfolio of advanced generation ID card printers and encoders. They are known for their unmatched quality, reliability and ease of use. We have cards printer models for all kinds of needs, volume and area. Safe production – Efficient operation!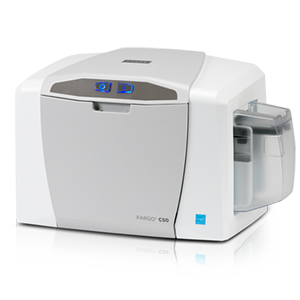 The FARGO® C50 plastic ID card printer offers a simple and reliable solution – at a price everyone can afford. Plug-and-play, the C50 can create personalized plastic ID cards for membership and loyalty cards, casino employee IDs, or visitor badges for schools whenever and wherever you need them, in five minutes or less.
Featuring a sleek, compact design, the C50 makes it an easy to fit even in the smallest of office settings. Designed with efficiency in mind, the C50 comes with built-in Swift ID™ badging software, automatic printer health monitoring via the included FARGO Workbench™ diagnostic utility and an easy to install, all-in-one printer ribbon and card cleaning cartridge, making your in-house plastic ID card printing virtually worry-free.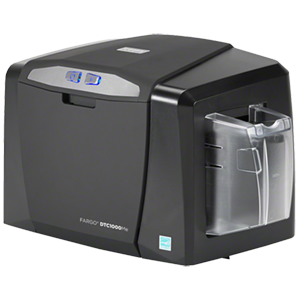 The FARGO® DTC1000Me Monochrome ID Card printer and encoder delivers the ultimate simplicity in card printing personalization and is a cost-effective card issuance solution for financial services firms, small businesses and retailers. The DTC1000Me creates crisp black and-white images, barcodes and other alpha-numeric data for use with temporary employee IDs, visitor badges, payment or retail membership loyalty cards.
Featuring Swift ID® badging software, the DTC1000Me helps you design custom ID badges without having to install any additional applications.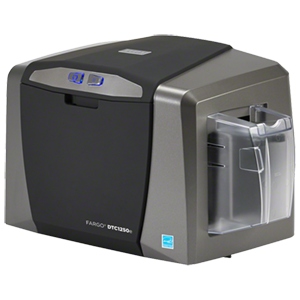 The ideal card printing solution for small businesses, schools, and local governments, the FARGO® DTC1250e ID card printer and encoder is the fastest printer in its class. Its small, compact footprint makes it easy to use in a variety of office environments and can be easily upgraded to include an embedded Mifare® encoder, enabling you to produce secure, personalized membership and loyalty photo ID cards in one single, seamless step. An optional Wi-Fi® accessory is also available to help you print anytime, anywhere.
The DTC1250e ID direct-to-card printer and encoder also features an intuitive, user-focused SmartScreen™ graphical display, enabling efficient set-up, operation and maintenance of your technology investment.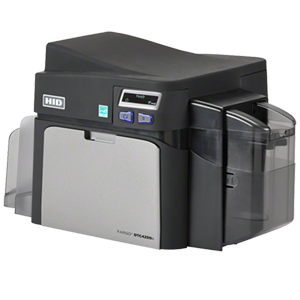 From plastic loyalty and photo ID cards to more sophisticated access cards with embedded electronics, HID Global's professional-grade FARGO® DTC4250e ID card printer and encoder is able to produce large quantities of extremely durable credentials both quickly and easily. Ideal for small to mid-size businesses, schools, and local government agencies that require reliable printing, the DTC4250e card printer and encoder features a flexible and modular design that can be easily adapted whenever your organization grows or your printing needs change.
The DTC4250e also features new security enhancements, such as the embedded Mifare ® smart card encoder for encoding organizational or personnel data directly onto the card. The DTC4250e can also be password protected so only approved operators can print and encode security cards and visitor badges.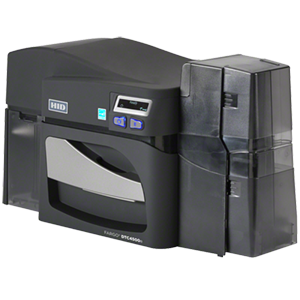 With the FARGO® DTC4500e plastic card printers and encoder, you get professional quality, full-color credentials. Designed for medium-to-large sized organizations, schools, and government institutions looking for reliable, long-term card printing and encoding solutions. Additional security features – such as password protection and data decryption, locking dual-card hoppers for managing different card stocks, and optional holographic or fluorescent (UV) overlaminates that dramatically increase card durability – also make this the ideal choice for organizations in need of advanced card protection and performance.
The DTC4500e features a modular design empowering you to add new functionality as the needs of your organization evolve. Also available, the Wi-Fi® accessory enables you to print cards anytime and anywhere, over any secured wireless network.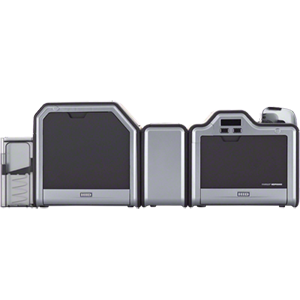 FARGO ® HDP5000 kortskrivare
Superior print quality, higher reliability and durability, greater security – your photo ID cards will have all these qualities when you print and encode them with the affordable and versatile HDP5000 ID card printer and encoder.
High Definition Printing® gives you superior print quality, even on smart cards with embedded electronics.
High reliability and durability lowers your total cost of ownership.
We back the HDP5000 ID card printer and encoder with a lifetime printhead warranty and three-year warranty on everything else.
Versatile modular design permits change as your needs change.
Minimal training is required because of its simple design and intuitive operation. Cards, ribbons and overlaminates come in cartridges that load quickly and easily.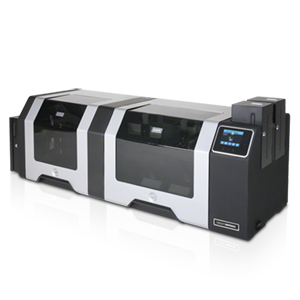 The FARGO HDP8500 industrial ID card printer and encoder is the superior industrial ID printer for extended-run, high throughput ID personalization and issuance. It's especially suited for large government ID card programs and laborious service bureau conditions, as well as demanding university and large enterprise environments.
The ID Card Printer and Encoder is the heart of the FARGO HDP8500 Industrial Series Personalization System. Combine it with the interoperable Lamination module and the all-new HDP8500LE Laser Engraver to enable the seamless integration of ID card printing, encoding, laser engraving and laminating into one machine, empowering card-issuing organizations to efficiently, reliably and securely produce multi-layered, secure credentials in a single pass through the system. Optionally available, High Durable HDP can be used to create even more robust and durable credentials.
FARGO HDP8500 Industrial & Government ID Card Printer and Encoder Applications
Government-to-citizen IDs:
Driver Licenses
National IDs
Border crossing cards
Voter registration
Service bureau ID production
University student ID/payment cards
We can help you find the right solution for your business.
Call us at +46 (0)455-61 66 00