Plastic card with contact chip – Smart Card
Areff's products work in all types of identification systems. For our products, we use suppliers and partners that maintain consistent and high quality. We also have our own experience of the products we sell to ensure stable products and good service.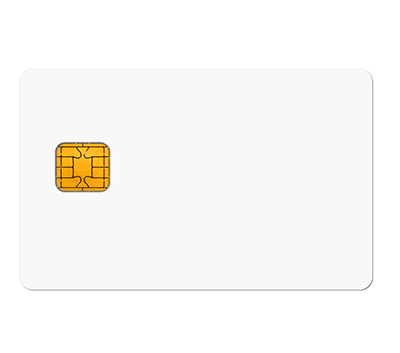 A contact chip card, smart card, smart card or ICC (integrated circuit card) is an ISO plastic card with an applied visible contact chip. The chip requires physical contact for information to be read and written. There are two broad categories of these cards.
Memory cards contain only storage components, and in some cases any specific security logic.
Microprocessor cards contain components for both storage and process and are used in more advanced payment and identification solutions.
We print and program the cards to get the card that suits you best. Smart cards are often used to achieve high authentication security for single sign-on (SSO) in large organizations,  banking and payment solutions, as well as for SIM cards.
Typical cards that Areff delivers are smart cards for PKI solutions, identity documentation, authentication, data storage and physical and logical access control solutions. The smart cards can also be equipped with any kind of RFID technology and magnetic strip for easy identification.
Contact us for advice.
Let us help you find the right solution for your business.
Give us a call +46 (0)455-61 66 00