IN Tag ™ is a RFID tag for special applications, RFID tags are required with special features. Areff can deliver RFID tags for labeling in many different environments and applications for example: outdoor use, for metal labeling, chemical presence or for environments with high temperature differences.
IN Tag ™ is waterproof, resistant to chemicals, robust and withstands temperatures up to 140 ° C. IN Tag ™ comes with low frequency (LF), high frequency (HF) and ultra-high frequency (UHF) chip. The IN Tag ™ is available in a variety of sizes, to meet different mounting and performance requirements.
Diameter: 20, 30 and 50mm.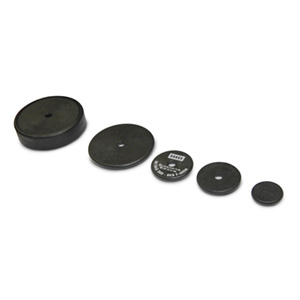 IN Tag EM4102 Ø30mm
IN Tag Hitag S 2048 Ø50mm
IN Tag Icode SLIx Ø20mm
IN Tag Icode SLIx Ø30mm
IN Tag Icode SLIx Ø50mm
IN Tag UHF Ø50mm
IN Tag UHF on metal Ø50mm
03-1ABK8030
03-1GBK8050
03-4ABK8020
03-4ABK8030
03-4ABK8050
03-5DBK5004
03-5DBKME55