For special applications, RFID tags are required with special features. Areff can deliver RFID tags for labeling in many different environments and applications for example: outdoor use, for metal labeling, chemical presence or for environments with high temperature differences.
SlimFlex ™ can be mounted on round or irregular surfaces, such as cylindrical containers, plastic pipes, helmets or trees. SlimFlex ™ Wash is resistant to chemical exposure and high temperatures that occur during repeated commercial washing, drying and pressing cycles. All tags are waterproof and have a high resistance to aggressive liquids.
SlimFlex ™ can be personalized with a logo or message for enhanced visual identification such as a barcode.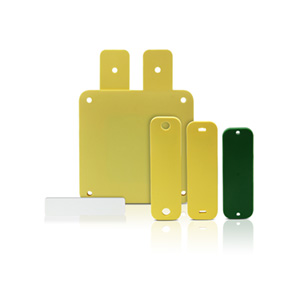 SlimFlex Tag HF I-Code SLIx, Yellow 83×25×3mm slots
SlimFlex Tag UHF, Green 77×25×3mm Ø3mm hole
SlimFlex Seal Tag UHF, Yellow Tag 83×25×3mm
Slimflex Tag UHF, White Flexible 62×12×3mm
SlimFlex Tag UHF, Yellow Tag 84×84×3mm
SlimFlex Tag UHF, Yellow 83×25×3mm slots
SlimFlex Tag UHF, Yellow 83×25×3mm Ø7mm hole
04-4AYW8325
04-5CGNF773
04-5CGNF774
04-5CWE6212
04-5CYW8484
04-5CYWF833
04-5CYWF873