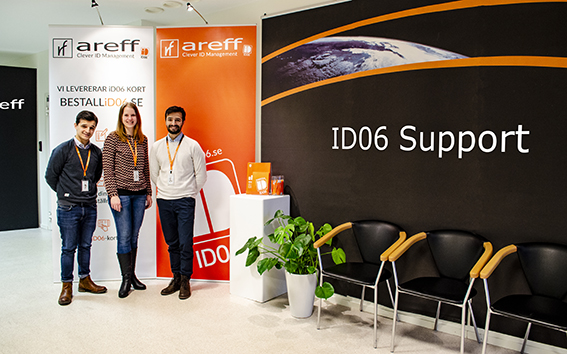 The first of February 2019 will mark the start for when Areff is ready to help ID06-users to manually identify themselves with a passport or national-ID, as a substitute for the identification with a swedish BankID.
"We have tried our manual scanning now for a couple of weeks with a number of costumers and we feel that we are ready to launch this service for all of our clients.", says Besart Luma head of the ID06 support at Areff.
The user of the card have to verify their own identity in order to fulfill the safety requirements for the new ID06-Cards. This is made possible by the usage of BankID. In the cases where the card user lack a Swedish BankID the identity of the person needs to be verified with passport or national-ID. This you are able to do here at Areff in our office which resides in Ronneby.
Areff will continue its cooperation with ID06 AB to be able to offer scanning and identification of passports and national-ID at other locations in Sweden and other countries.
For more information about how the manual identification works at Areff, contact our ID06 support via phone or mail.
Phone: 0455 61 60 06
Mail: id06@areff.se
*Today the usage manually scanning of passport or national-ID for swedish citizen and companies are mandatory.