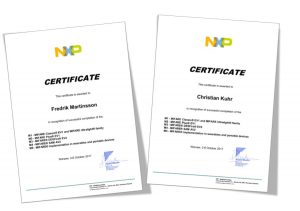 In order to maintain and develop our expertise in high security solutions based on MIFARE, Areff has now undergone its annual NXP certification course.
I utbildningen ingår fem moduler:
M1 – MIFARE® Classic® EV1 and MIFARE Ultralight® family
M2 – MIFARE® Plus® EV1
M3 – MIFARE® DESFire® EV2
M4 – MIFARE® SAM AV2
M5 – MIFARE® implementation in wearables and portable devices
All modules included practical workshops and application-specific tips for developers.
To be competitive and to provide our customers with the best possible service, this kind of training is important to us – says Fredrik Martinsson at Areff.
This is the fifth time we do this kind of NXP MIFARE training at Areff. We try to do it once a year to keep up with the development of NXP's products.