Standard or customized solution, no matter what, we will help you establish secure solutions.
Our expertise consists of secure and reliable system solutions based on RFID.  Our constant thrive to evolve within the RFID field immensely helps us with satisfying our customer's requirements and expectations, as well as quickly and effectively achieving such – so challenge us, we greatly appreciate the opportunity. For quality assurance of the best possible solution for any given inquery, the same procedure and processes are always being followed.
That's what we call Clever ID Management.
It does not take much to improve security, just by selecting a chip that  is defined with keys, increases it´s security. Meaning more security mechanisms are being used rather than solely relying on the unique id of the given chip. It's all about choosing the correct product depending on application area and risk level requirements.
Here is a general guide of various RFID technologies, we hope this being of help when determining for both contemporary as well as future projects.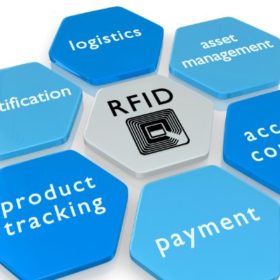 Enjoy the reading!
RFID
RFID (Radio Frequency IDentification) was developed for traceability and access applications more than 20 years ago. RFID allows automatic identification and / or collecting data to a computer without using the keyboard or pointing device. The basic goal is to eliminate errors and increase the speed of the identification process. It requires some form of back-end computer system that can receive and interpret the information received from the RFID chip.
EM
EM (EM Marin) is an RFID technology that has become standard and is used by many Nordic access control systems. EM uses the frequency 125 kHz. EM-4200 is the EM chip used today and is compatible with EM-4102 and EM-4100. EM offers a shorter read range up to 20cm depending on environment, reader and antenna. Safety class on an EM chip is low, but useful in a variety of environments requiring low security or in an already secure environment.Area of ​​useIn an already secure environment EM technology is a real star. Mark the products with a unique ID, to be used in a logistical context, such as laundry with RFID technology is used in hotels and hospitals, the laundry can be easily sorted as well as tracked from where they originally originated.
MIFARE
MIFARE Classic® are onte of the fastest growing RFID technology in Sweden and the world. MIFARE works on frequency of 13.56 MHz. Often called the MIFARE contactless smart card, which means that the MIFARE card not only sends out a chip number when it comes in contact with a card reader, but also allows to save additional information on the card, which can be protected by the use of keys. This protects against 3rd party access of that sensitive information on the card, thus ensuring that only authorized parties with keys do are granted access. MIFARE exposes, such as the EM, a unique ID numbers per card, and to improve security the above described steps should be implemented for MIFARE chips .
MIFARE Plus has been developed as a complement to the MIFARE Classic chip as it has been proved to be key protection in these cards can be exploited and results in 3rd parties being able to access the information that the MIFARE Classic stores. Another reason is the introduction of 7byte UID which in practice means an extension of the unique id's length. Older chips are based on only 4byte (4byte UID is left but termed NUID (Non UID), which in the current situation is no longer unique.
MIFARE Plus and MIFARE DESFire have been equipped with a significantly longer range of numbers for the unique chip numbers. MIFARE PLUS is equipped with a 128-bit AES encryption. MIFARE PLUS is also backward compatible with MIFARE Classic to enable a smooth transition to a more secure card standard, with older cards still out on the field.Area of ​​useUnlike the EM chip that is no longer appropriate for access, MIFARE chips are the perfect product to achieve just that, if applied correctly. Examples of current use-cases are concert passes, loyality cards, public-transit cards, etc. If you are insure which chip to choose or simply have any questions or concers, simply get in touch with us for a proposal for tags, cards and readers that do fulfill your requirements and expectations.
Potentially you might even require even more advanced secure solution, or simply are curious about, biometrics and how they work.
Read about AreffBio
AreffBio >>