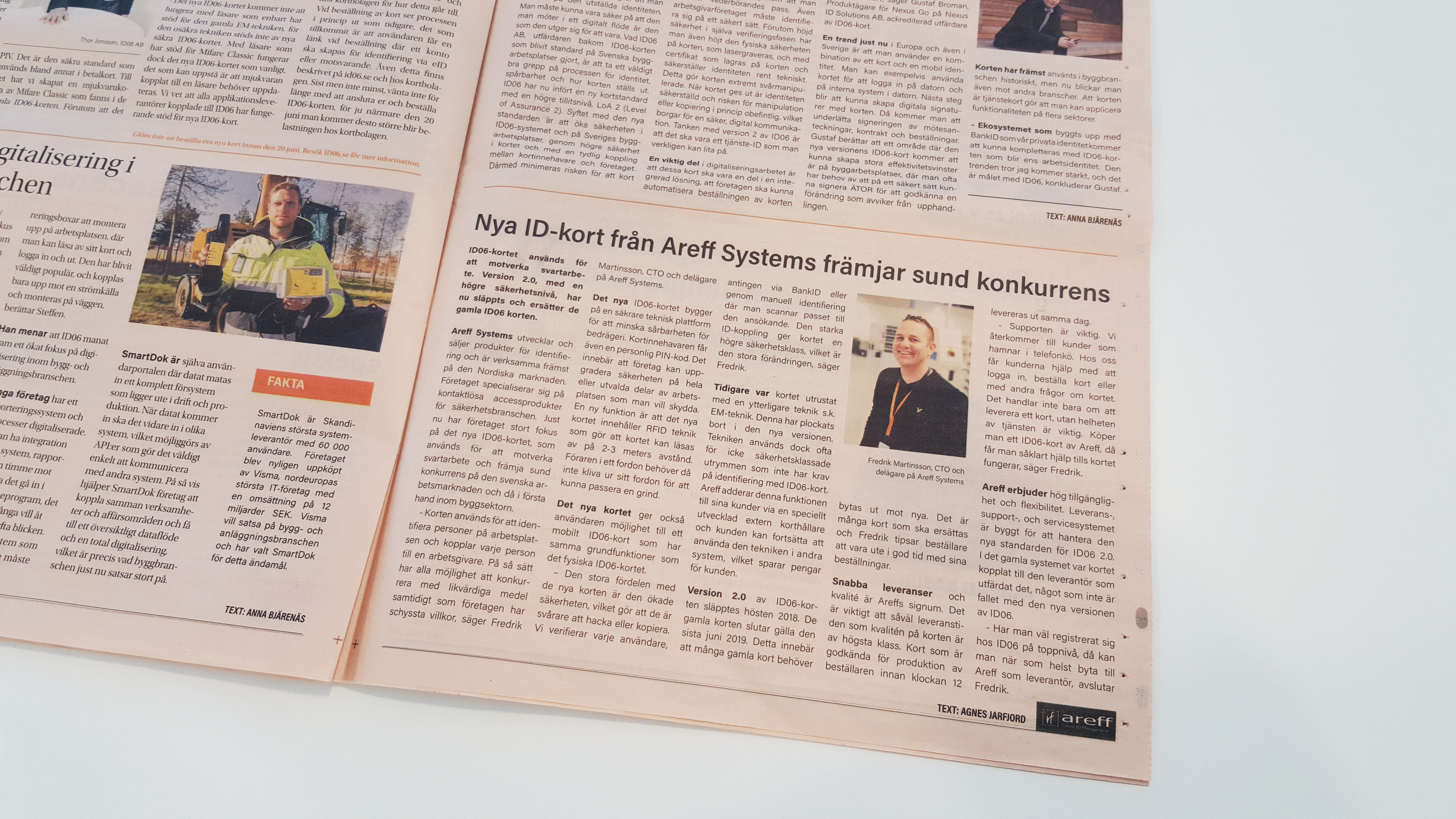 New ID-cards enhance a healthy competition
The ID06-Card is used to prevent illegal and non-sanctioned forms of work, mainly in the field of construction. Version 2.0, with a higher level of security, have now been released and will replace the old ID06-Cards during this summer. This writes DI (Dagens Industri) in todays annex.
Areff Systems is a company in the field of security that develops and sells products for safe and secure identification and is mainly active on the Swedish and Scandinavian market. The company is specialized in products that work on a contactless solution for access in the field of security. Right now the main focus for the company is the new ID06-Cards, that is supposed to prevent illegal and non-sanctioned work, creating healthy competition and securing the Swedish labour market, mainly in the work sector.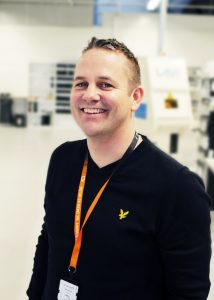 – The cards are used to identify people at the worksite and connecting every worker to an employer. In that way everyone will have a fair and just method to compete between each other, company-wise, says Fredrik Martinsson, CTO and part-owner at Areff Systems.
The usage of an electronic personnel ledger is mandatory on almost every construction site in Sweden. All companies and personnel that work with construction shall be recorded in a personnel ledger. The new ID06-Cards build upon a safer technical platform to minimize the vulnerability of dupery. The technology enables a two-way authentication because the cardholder is given a unique and personal pin-code. This makes it possible for companies to elevate the security on a grand scale of things or specific sections as offices, storage or other restricted areas. A new function is that the new ID06-Card contains RFID-technique which makes it able to be read from 2-3 meters/6-10 f distance, allowing a driver of a truck to have is Identity checked without the need of stepping out of the vehicle. The new card also allows the user a function to use a mobile ID06-Card in their cellphone, a function that can be compared to a mobile BankID while still having the same properties and functions as the physical card.
– The big edge of these new cards is the increase in security, which makes it harder to hack or copy. We verify every user of ID06-Cards, either with BankID or with a manually identification where we scan the passport of the person applying for ID06. A strong ID-connection gives the card a higher security-classification due to. a higher level of verifying and securing the cardholder. This is the big difference, says Fredrik.
Previously the card was equipped with a proxy (EM) technology, something that has now been removed since this technology is regarded as not secure enough. Proxy (EM) is however often used since it is easy and practical for an access system in "non secured" spaces or rooms such as changing rooms, coffee-machines or other kinds of access that do not require ID06. For those that want or need this "proxy (EM) solution" as well for their systems can order a special kind of cardholder that we at Areff have developed to include this. In that way, you can save money and do not need to change old systems that are still in use.
Version 2.0 of ID06 was released last fall and the old cards will expire the last of June 2019. This means that the old cards need to be changed for the new version before that. Before the release of the new cards there was around 800 000 old ID06-Cards, so there are a lot to replace. Fredrik encourage costumers to switch over as soon as possible to avoid the longer waiting periods when summer arrives.
Fast deliveries are one of Areffs trademarks. We strive after that our deliveries as well as our support are as effective as possible. Cards that are approved for production by the orderer before 12 AM will be of priority for us since we try to send these out for delivery the same day.
– Support is important! We will return to you during the day if our telephone-support is occupied. We help our costumers to log in and order cards or with all the questions that they may have about the functionality of the cards. This is an important part in the whole that is Areff. It is not just about delivering one card. What happens if my account or card does not work anymore? If my card does not work in any of the systems, what do I do? If you buy the ID06-Card from us, then we support you all the way until everything works. That is included in the purchase, says Fredrik.
Areff can thank due to its small size offer a high level of accessibility and flexibility. Deliveries-, support-, and service systems are build for ID06 2.0, not for the old ID06-Cards, making it easier for the organization to act quickly and cater to the needs of the costumer.
In the old system for ID06 the cards were linked to the creator and supplier of the card, something that has been changed with the new version of ID06.
– With the registration done at ID06 AB on the top of the system, changing provider of the cards is easy, finishing statement from Fredrik.
Source: Dagens Industri – Take me to DI
Writer: Anna Bjärenäs